Step to fix Windows 7 Error Code 0x0000007e:
The windows error 0x0000007e is the most common error that may appear on your screen and called as blue screen error. This error may appear any time.
Windows 7 or windows error 0x0000007e means Windows operating system doesn't have permission to access specific files, that is required by an application. this error is most common when you have any virus or malware on your computer.
This error doesn't mean your system has the error, it simply means Operating system encountered an error while accessing a file. That needs to run any application. This error is mainly caused while starting your computer or while using it.
The most common example of is, when you have antivirus software and you just blocked installation of any new hardware. Then the Operating system shows stop error message.
Encountering this error does not mean that the OS is damaged. It only means that the OS encounters a problem at the point when it starts to access some files or even while starting windows.
As a result the error can occur when you start the computer or in the course of instructing the computer to access a hardware system file, which can be a USB inserted in a port or a printer on a shared network. This Error Code 0x0000007e leads to the blue screen of death.
Various Reasons Why Error 0x0000007E may Occur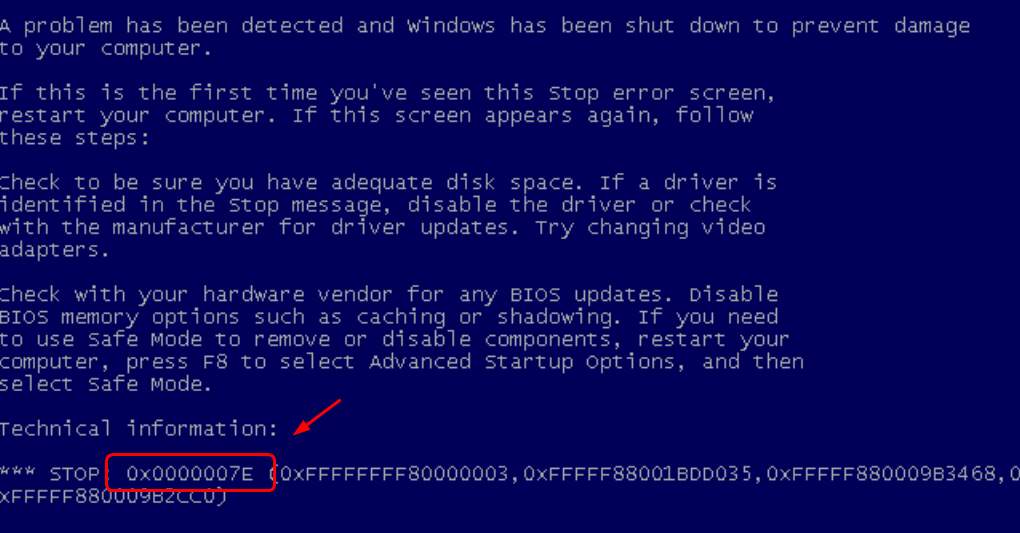 Most importantly in a Virus/Malware infection.
Outdated system or hardware drivers.
Outdated or incorrect system BIOS.
Besides the above even if  an incompatible system or hardware drivers.
Limited space on the hard disk.
There are several solutions to Stop 0x0000007E error. The fact that many factors can cause it means that you need to try out several to find one that fixes it.
This stop 0x0000007E message occurs but remember:
The parameters in this Stop error message vary, depending on the configuration of the computer.
Not all "0x0000007E" Stop error messages are caused by this issue.
This issue usually occurs on a file server, and does not occur when Server Message Block (SMB) Version 2 is disabled
Solution 1: Run Antivirus/Malware Program
This solution will only work if your computer can boot and the error only occurs when doing something.
Virus/malware infection is a primary cause of many Windows errors including error 0x0000007e. Running the installed antivirus/malware program can quickly help in fixing the error. You may also consider disabling the program to see if the program is responsible for the error.
Solution 2: Verify Sufficient Space on Hard Disk
Limited hard disk space is a very common cause of this error. You need to check the amount of available space and take remedial measures if necessary.
Your first move should be to ascertain how many Windows OS systems you have on your computer. Consider uninstalling a previous version of the OS just in case you did an upgrade and left the old one intact. It can be the cause of driver conflicts on your computer.
Your second move should be to do away with unnecessary files on your computer that take up valuable space. This solution will work if the 0x0000007e error occurs after starting your computer.
1. Firstly, restart your computer.
2. After that press "F8" key to load the "Recovery screen".
3.Later,  Click "Advanced Repair Options."
4. Now you will haveto click "Troubleshoot."
5. Click "Advanced Options."
6. Click "Windows Startup Settings."
7. Then, click "Restart."
8. Therefore your computer will restart in safe mode. Remove all the temporary files, program backup files and Internet cache files on the resultant "Recovery Console."
Restart your computer normally and do whatever you were doing to see whether or not the error 0x0000007e is fixed.
Solution 3: Update BIOS Settings to remove error 0x0000007e
This solution will only work if the error occurs long after starting your computer. Note that the Basic Input and Output System (BIOS) plays the important role of informing the OS whether or not installed hardware are available for use. Any issue in the system leads to the occurrence of error 0x0000007e.
Firstly, click "Start" on your computer.
Secondly, type "msinfo32″ or 64 in the search box.
After that click "System Summary."
Later note down the displayed date and version of the BIOS.
Most importantly connect your computer to the Internet.
Now access your computer's or your computer's motherboard manufacturer website.
Check to see whether or not your computer's BIOS is the latest. You need to download the latest BIOS software just in case your computer's software is outdated.
You need to pay close attention to BIOS software installation instructions to prevent damaging your computer beyond repair. Restart your computer after upgrading the BIOS and do what you were doing before the Stop error 0x0000007e occurred to see if it is fixed.
Some times just run the command prompt and run chkdsk option to sort this issue.
Solution 4: Disable Device Drivers
This solution will only work if the error occurs long after you have started your computer. It should help to fix error 0x0000007e if you find that your system BIOS is up to date.
1. Restart your computer in safe mode.
2. Access "Windows Device Manager."
3. Double-click on a device that you installed recently before the error started to occur.
4. Right-click on the device before clicking "Uninstall."
5. Select any adaptor driver installed on your computer.
6. Choose to update all the drivers.
7. Exit the "Windows Device Manager."
Restart your computer normally to see if the error is fixed.
Solution 5: Remove Third-Party Drivers which causes error 0x0000007e.
For instance the third-party drivers can easily cause error 0x0000007e. Removing them can quickly repair the error. This solution only works if the error occurs after starting your computer and there is a problem with windows server..
1. Firstly, create a temporary folder to host all the third-party drivers installed on your computer. You need to create the folder in the same sub-directory containing the OS.
This is because some machines make use of either IDE or SCSI controller drivers by third-parties.
2.After that transfer all the third-party drivers to the temporary folder.
3. Most importantly restart your computer and revert to what you were doing to see if the error is fixed.
If the error is fixed, then it means that installation of the third-party drivers was not correct. You can easily rectify this by;
1. Then transfer the third-party drivers back to their original location one after another. You need to restart your computer every time you transfer a driver to see if the error occurs. If the error occurs after moving a particular driver, then that driver is the culprit.
2. After that connect your computer to the Internet to access the website of that specific driver's manufacturer.
3. Now, download to install the latest available driver.
4. Complete the transfer of the other divers.
5. Lastly, restart your computer.
Sometime if system shows SYSTEM_THREAD_EXCEPTION_NOT_HANDLED . Note that windows server 2008 has ended so if you are still using that windows 2008 server then this error has to occur.
The Error should be fixed.
One of these solutions should be useful in correcting error 0x0000007e. It will be necessary to revert your computer back to an earlier date when it runs without the occurrence of the error. It is only in rare cases that you may need to perform full re-installation of the OS.